Get to know us a little better!
Seddon Vet Hospital is a purpose-built veterinary hospital that opened in October 2011. It services  Seddon, Yarraville, Kingsville Footscray, Maribyrnong , Maidstone, West Footscray, Flemington and surrounding suburbs. We have high quality equipment, including digital x-ray facilities, dental xray and ultrasound. We are locally owned and operated.
Our vets, Dr Russell Croser, Dr Shelley McColl, Dr Nora Chen and Dr. Fiona Smith have more than 55 years combined veterinary experience and our manager Gabby Johnson has more than 25 years experience running vet hospitals.
 All of our nursing staff are well trained, very experienced nurses. We pride ourselves on our knowledge and experience and willingness to share with our clients. We are also very committed to continuing education.
After working together for some years, in a larger hospital in the inner west, we decided to start our own business in order to provide a more personalised, caring service to our clients and their pets. We wanted to help educate and empower owners. We wanted to be advocates for our patients and practice high quality medicine and surgery.
We have now been part of  the local community for over 7 years and we are still regularly meeting new, dedicated pet lovers out there.
We love what we do.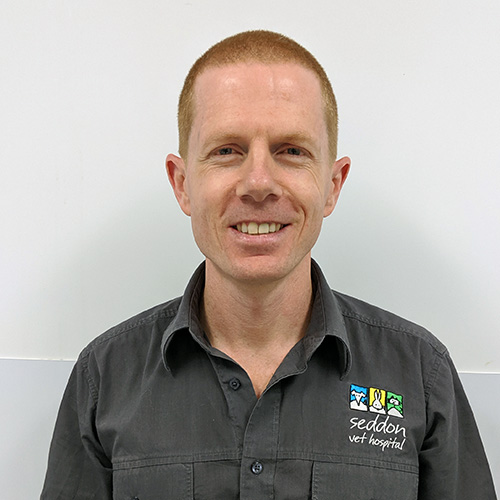 Russell
Russell graduated from Murdoch University in Western Australia in 1997. He has since worked in Colac,the UK, Hobart, Brisbane then came to Melbourne in 2007 working in a small animal practice in the Williamstown area. Seddon Vet Hospital opened it's door in late 2011 and has kept him busy since then. He has completed extra study in the areas of medicine and ophthalmology. He and his wife have an energetic Kelpie cross and a Pomeranian cross as well as as two moggies.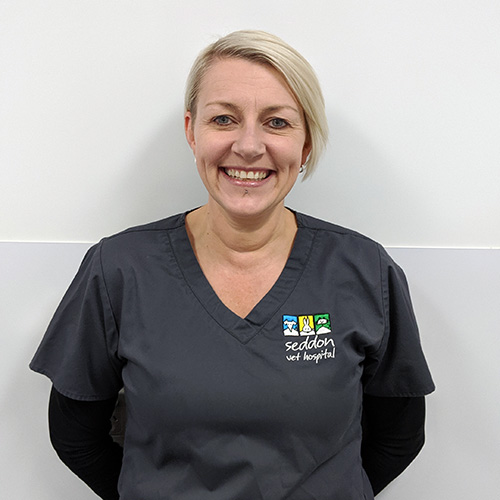 Gabby
Gabby has been a veterinary nurse for nearly 25 years. She has worked at a number of practices in both Queensland and Victoria. Gabby spent 12 years at a small animal practice in Williamstown where she was also Practice Manager for most of that time.
Gabby has a dog named Sadie. She is a Jack Russell x Staffy (with a bit of Greyhound in her according to her DNA results). You may see Sadie wandering around the clinic some days.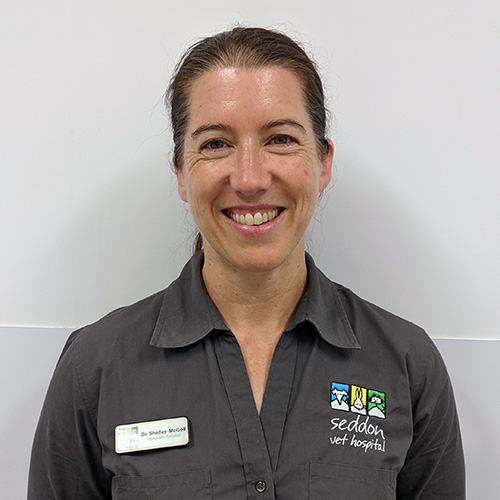 Shelley
Shelley graduated from the University of Melbourne in 1996. She worked in the inner western suburbs for 4 years before going overseas to travel and work as a locum for 2 years. For the last 10 years she has worked in Essendon North, before "coming home" to Seddon in 2013. She has completed further study in cardiorespiratory medicine and enjoys the fields of dermatology, medicine and diagnostic imaging. She has two kids and an uncertain number of pet goldfish in the pond.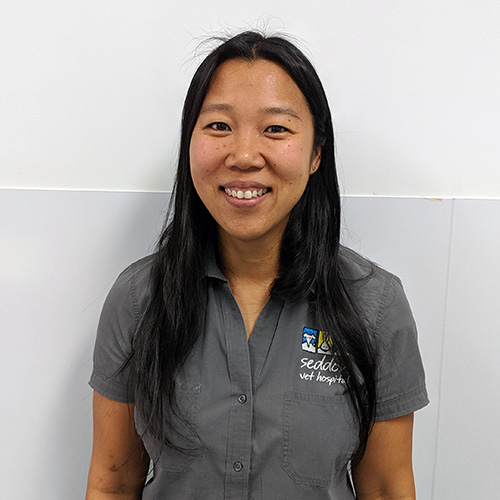 Nora
Nora started working at Seddon Vet Hospital as a vet nurse during her final year of vet school, and then graduated from The University of Melbourne in 2012. She started work at a busy practice in the Northern suburbs as well as working Saturdays at Seddon. She got to see a lot of weird and wonderful cases during this time, but the best thing about her first job was adopting Marley, her 9 year old cattle dog cross. She then did a 10 month stint as a housecall vet before starting full time at Seddon Vet Hospital in March 2017. She has an elderly dog called Marley who keeps her busy during her down time from the Hospital.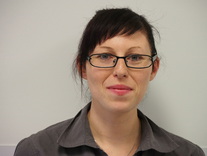 Erin
Erin is a very experienced vet nurse. She has been nursing for over 14 years and has successfully completed her Certificate IV in Veterinary Nursing to go with her Certificate IV and Diploma in Animal Technology. Over the many years of caring for animals both big and small she has worked alongside specialist vets in internal medicine, has worked as an emergency nurse as well as working in general practice. She has a keen interest in animal nutrition, feline health and wellbeing/behaviour, rehabilitation post injury/surgery, grief counselling as well as ultrasonography, surgery and anaesthesia. A crazy cat lady who is always under the paw of her two cats, who are highly demanding and extremely cheeky. The dynamic duo are Arwen, the cat princess, and Richie McCat (named after the greatest All back of all time Richie McCaw…but he couldn't be named after a bird hence McCat!). As well as her passion for everything feline, she owns shares in a number of racehorses.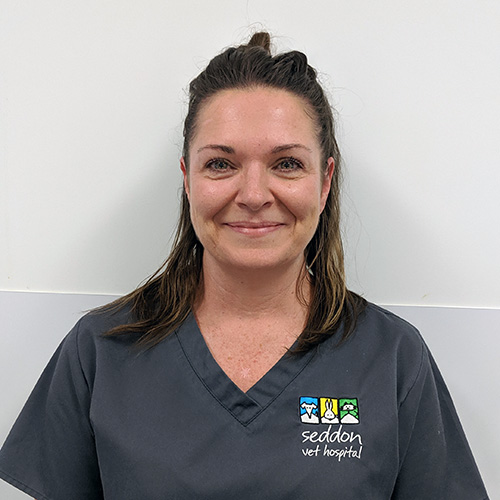 Sally
Sally began her vet nursing career in Williamstown in 1999. She has worked in numerous clinics around Melbourne. She joined the SVH team in June 2016.
As well as working as a vet nurse, Sally is studying to become a human nurse. When not at work or studying, she enjoys all things food, particularly ramen and cheese washed down with a glass of good wine. Sal enjoys travelling and has visited many countries. She lived and worked in Canada for a year in 2005. Her 4 legged family consists of a greedy puggle named Bonnie, a geriatric cat named Dennis and Rhonda, the antisocial teenage cat.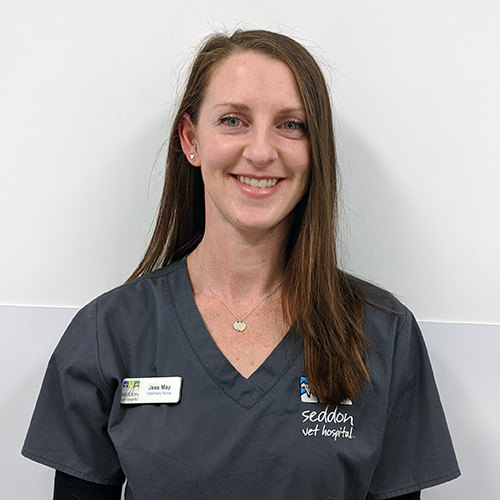 Jess
Jess is a full time vet nurse, who has 9 years of experience in small animal nursing and has also worked with orangutans in North Sumatra. She started off working in pet transport , then was keen to get into a more hands on role, which led her into nursing. She has a keen interest in primates and elephants, along with cats and dogs (of course)! When she is not hiking or exploring, she is bossed around at home by her 9 year old cat, Kodey.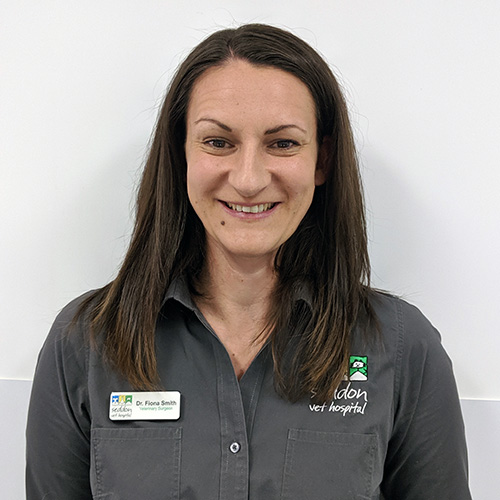 Fiona
Fiona graduated from The University of Queensland in 2004. Following graduation, she worked in Geelong, before heading over to the UK to work and travel. Fiona was thrilled to join the Seddon Vet Hospital in 2018, and loves being a part of the Seddon community.
She loves to help keep her patients happy and healthy, and feels privileged to be entrusted to taking care of her patients when they're not feeling so well. Fiona enjoys all aspects of small animal medicine and surgery, and particularly enjoys seeing dermatology and ophthalmology cases.
When not at work, Fiona enjoys gardening, skiing and yoga, and taking her cocker spaniel Henry for walks along the beach.
Lisa
Lisa joined the Seddon Vet Hospital team in 2019 as our receptionist. Previously she had worked in a variety of roles including customer service and quality control at a human pharmaceutical company. Her favorite role is being a mum to two teenagers and her beloved fur child, Lenny the greyhound, who was rescued as a puppy and now rules the house. Lisa is a passionate St Kilda Football Club supporter who also enjoys cooking, travelling and horse racing.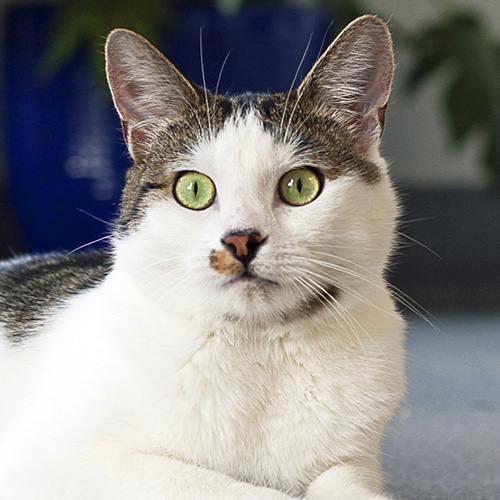 Monkey
While visiting our hospital you may also meet our resident cat, Monkey. He had severe injuries to his hind leg and his tail that unfortunately meant they needed to be removed. He has recovered very well and manages with his other 3 legs without any problems at all.